Launch of MINIS test balloon at McMurdo Station, Antarctica
On December 15, 2003 the MINIS (MINIature Spectrometer) test balloon was launched from Williams Field, McMurdo Station Antarctica. This was an engineering flight to test a suite of small instruments, the flight control computer, and an Iridium modem-based telemetry system.
Project Status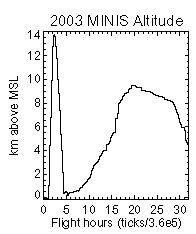 Test flight altitude profile
March 2004: analyzing test flight data and building new instruments
The MINIS test flight was launched at 17:40 UTC Monday December 15, 2003 (local time 10:40 AM Tuesday December 16, 2003). The payload mass was about 40 kg and was carried by a 500,000 cubic foot helium balloon. The goal was to lift the payload to 30 km altitude where it would ride winds westward around Antarctica for about 5 days and collect data.
In the plot at left, time units are hours after payload power was applied. Launch is at 1 hour. After ascending through the tropopause to about 14km the balloon failed and quickly descended. The payload landed on Mount Discovery where it was dragged for some hours by the huge sail of the balloon. Eventually, enough parts broke off that the balloon-payload combination became buoyant, and it rose from the mountain. That this data is present demonstrates the telemetry system, GPS receiver, flight computer, and power system continued to work after the unexpected descent and dragging episode. The aspect magnetometer, sun sensors, x-ray spectrometer, and temperature sensors also continued to function. Other instrument data is still being examined. Neither the balloon nor payload were recovered.
More data from the test flight will be available from this page.
Download x-ray spectra (5MB pdf)
Download payload rotation data (340KB pdf)
Download temperature profile (530KB pdf)